Welcome to ColoradoProspector.com
Gem and mineral prospecting and mining information
for National Forest and BLM land.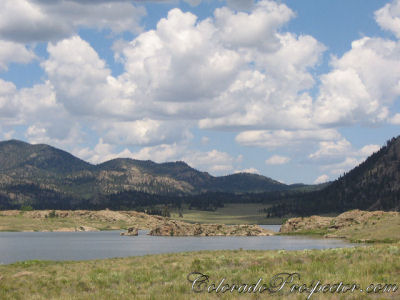 For everyone interested in prospecting or exploring for gem and mineral deposits within (Y)OUR NATIONAL PUBLIC LANDS. Whether you like to prospect for gold, diamonds, gems, explore new agate beds, collect mineral specimens and samples, or you're interested in exploring our great outdoors with the family. The Colorado Prospector club and website is your online resource for prospecting and exploring information, techniques, mining goods and equipment.
Whether you've just started learning about prospecting and mining, or if you have prospected for years, the Colorado Prospector website has something for you.
Feel free to browse around the website, interact and contribute informtion if you wish. 95% of the website is free to all with only a small portion reserved for club members use alone.

Colorado is known historically as a mining state. Naturally attracting prospectors on vacation wanting to find a nugget, a little color in their pan, or maybe one of the many gem specimens Colorado is also known for.
Ready to do some prospecting?......... Where do you start?
Land status research can be a tricky thing to figure out, but we would like to help everyone who is interested in learning. Education being one of the Colorado Prospector clubs main goals, we would like to help folks learn the begining steps of mining. One of those first steps obviously would be land status of the area you wish to explore, or maybe you are still looking for that place. This is where the CP club membership could come in mighty handy!

Here is a link to some frequently asked questions about small scale mining

Did you know? .... You may collect samples and specimens for your own personal use and study without any prospecting permit.

Okay, ready to head out and get your samples or specimens?
Where can you explore and prospect that isn't claimed you ask?
The Colorado Prospector club membership grants you access to our research done on several NF/BLM public land parcels. (to check for exsisting claims) With the members info provided, you will be able to go prospecting on your schedule, any time or day of the year! In addition, we try to help everyone learn their basic rights and the laws concerning exploring and prospecting YOUR national land.

Did you know? ..... As a United States citizen you have "THE RIGHT TO EXPLORE, FILE CLAIMS ON, AND DEVELOP THE MINERAL/GEM DEPOSITS WITHIN OUR NATIONAL LANDS."

Colorado Prospector club members are encouraged to file their own claims if they desire and we try to help along the way. But even if you don't want to file your own claim......
Club membership provides a great resource for your prospecting adventures!

By joining, you will become part of an outstanding group of people from all over the U.S.A. and you will have one heck of a jump on the learning curve! Membership funding from the fine folks who have joined the club help keep the website, and the wonderful resource it has become, open for anyone who is willing to learn and or share!

On our Testimonials and Reviews page, you will find links to comments from past and present Colorado Prospector club members and claim owners, reviews of the Colorado Prospector website itself and the Miners Market goods and lapidary services.

You can also view some Gold Dredging Videos, and see how gold can be found by dredging.

Mining is a HUGE PART of our american heritage that is often over looked in todays world, even though we can not go 1 single day without using mined materials. For instance, you just used 66 minerals to view this webpage on your computer. Exploring that history, today's use of minerals, and our national land can be an awesome experience for the entire family. Please make yourself right at home browsing the Colorado Prospector website and feel free to contact us anytime with questions.

REMEMBER......"IF YOU USE IT, THE GROUND PRODUCED IT!"






Looking for unique mineral specimens for sale, loose gem stones or stone guitar picks? Visit the Miners Market and support local miners/artisans!






Looking to sell a timeshare you no longer use? There are lots of potential buyers world wide interested in buying timeshare resales and adventure locations like these are very popular to vacationers.



---
GOOD LUCK PROSPECTING!
---






















Site Design by Dan and Denise (Owners/Colorado Prospector)

PHP Program Consulting by Olexiy Merenkov




---